Composting on properties
Composting is a natural part of the waste management of detached houses in the Helsinki metropolitan area. You can compost garden, food and toilet waste. Compost maintenance is easier and more fun than you think.
Every year we offer free composting courses that are open to all. The courses are suitable for both beginners and experienced composters.
Spring 2020 courses and advice sessions have been cancelled due to the coronavirus pandemic. The autumn course schedule will be available below on this page as it is updated during the summer and autumn.
Useful information about composting
For composting kitchen biowaste, you need a compost container that is protected against pests.
Garden waste can be composted in a clean, well-maintained open compost heap, such as inside a frame.
For composting toilet waste, you need a composting toilet designed for this purpose that is properly enclosed and well-ventilated, or a toilet device that prevents runoff water from entering the soil.
The compost must be placed and maintained so that there is no harm to health or the environment.
Please take neighbours into consideration when choosing the location of your composter. Try to place the compost at least five metres away from the border of the neighbouring lot.
Composting notification
Notify HSY of composting if
there are five or more apartments participating in the composting
you are composting toilet waste
you are applying for the emptying interval of the mixed waste container to be extended (to eight weeks)
Submit a composting notification
Composting guide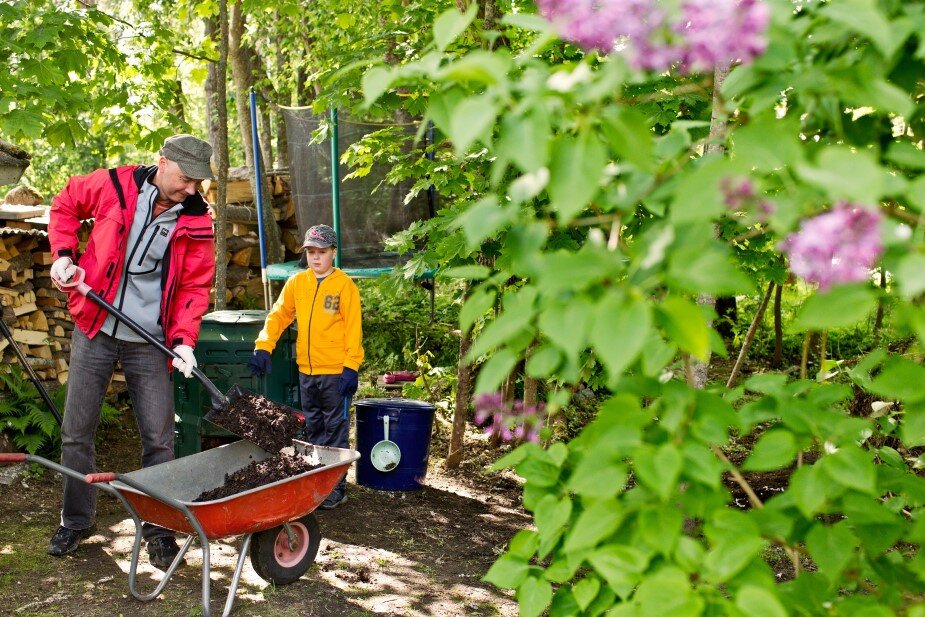 The composting guide is an information package on how to start and maintain composting on a residential property. Take eco action and start composting today.
Composting guide
Come to a free composting course
We organise open composting courses in the spring and autumn in cooperation with the Helsinki Metropolitan Area Reuse Centre and the cities in the area. Come and learn the basics of composting at a relaxed and hands-on event lasting about two hours. ​No pre-registration unless specifically stated.
Autumn 2020 composting courses – to be updated during the autumn
Mon 7 September at 5.30−7.30 pm Omnia Espoo Adult Education Centre Leppävaara, Komentajankatu 5 (registration at ilmonet.fi)
Thu 10 September at 5.30−7.30 pm Omnia Espoo Adult Education Centre Tapiola, Itätuulenpiha 1 (registration at ilmonet.fi)
Wed 16 September at 5.30−7.30 pm Omnia Espoo Adult Education Centre Espoo Centre, Kirkkokatu 16 (registration at ilmonet.fi)
Assemble your own group and order advice
We offer composting advice free of chargein the Helsinki metropolitan area and Kirkkonummi to, for example, housing companies as well as detached housing and other associations.
Assemble a group of at least ten people, arrange a space and contact the Helsinki Metropolitan Area Reuse Centre. Place the course order no later than two weeks before the event.
Composting advice
Course order
Composting at holiday homes

Composting is also worthwhile at a holiday home!
If you compost the biowaste generated at your holiday home, you can extend the emptying interval of the mixed waste container to up to eight weeks if desired. Submit a composting notification to us if you wish to extend the emptying interval to eight weeks. If necessary, you can also order additional collections from us if the utilisation rate of your holiday home varies during the year.
If you compost biowaste at your holiday home and recycle other waste so that only a small amount of mixed waste is generated, you can apply for a longer emptying interval of more than eight weeks, using an exemption application.
Please note that you can enter into a seasonal contract for waste transport for a holiday property that is in summer use. This contract is only valid for the summer season, i.e. weeks 18–40. The seasonal contract does not need to be suspended separately, and there is no need to apply for an exemption from the waste management regulations at the end of the season.
More information about the waste management of holiday homes