Waste containers and other waste collection equipment
The number of waste containers required depends on the property's size, resident structure and number of waste collection points.
Waste containers owned by HSY are used for waste collection, excluding deep collection containers and waste compactors. When the customers' own containers reach the end of their life cycle, they are replaced with HSY's containers.
Read more about the waste management regulations
Waste collection may be arranged using
140–660-litre manually movable waste containers suitable for mechanical loading; carton may also be collected in 790-litre containers.
waste containers with lids suitable for front, end or crane loading. The sizes of deep collection containers range from a few hundred litres up to five cubic metres.
waste press containers.
We do not use roller cages for the collection of carton packages (cardboard).
Waste bins with lids and a maximum capacity of 240 litres that are suitable for mechanical emptying may be used for the collection of biowaste. Containers of up to 140 litres may be used for the collection of biowaste generated in facilities.
Standard dimensions of the most common waste containers
The dimensions vary somewhat depending on the manufacturer of the container.
| | | | |
| --- | --- | --- | --- |
| ​Nominal size | ​Width | ​Depth | ​Height |
| ​140 l | ​510 | 560​ | ​1,080 |
| ​​240 l | ​600 | ​720 | ​1,100 |
| ​360–370 l | ​700 | ​850 | ​1,100 |
| ​660 l | ​1,250 | ​850 | ​​1,250 |
See the price list for the rental rates of waste containers
Properties with 1-4 apartments
The collection of mixed waste is mandatory, and the collection of biowaste will become mandatory during the years 2023-24. Composting is an alternative to the collection of biowaste. If you wish, you can also order other types of waste containers if your apartment happens to be along a waste collection route. You can also create a joint use agreement for waste containers with your neighbour. A joint use agreement can be concluded for all or only some types of waste.
We also encourage you to use the Rinki eco take-back points.
Properties with 5–9 apartments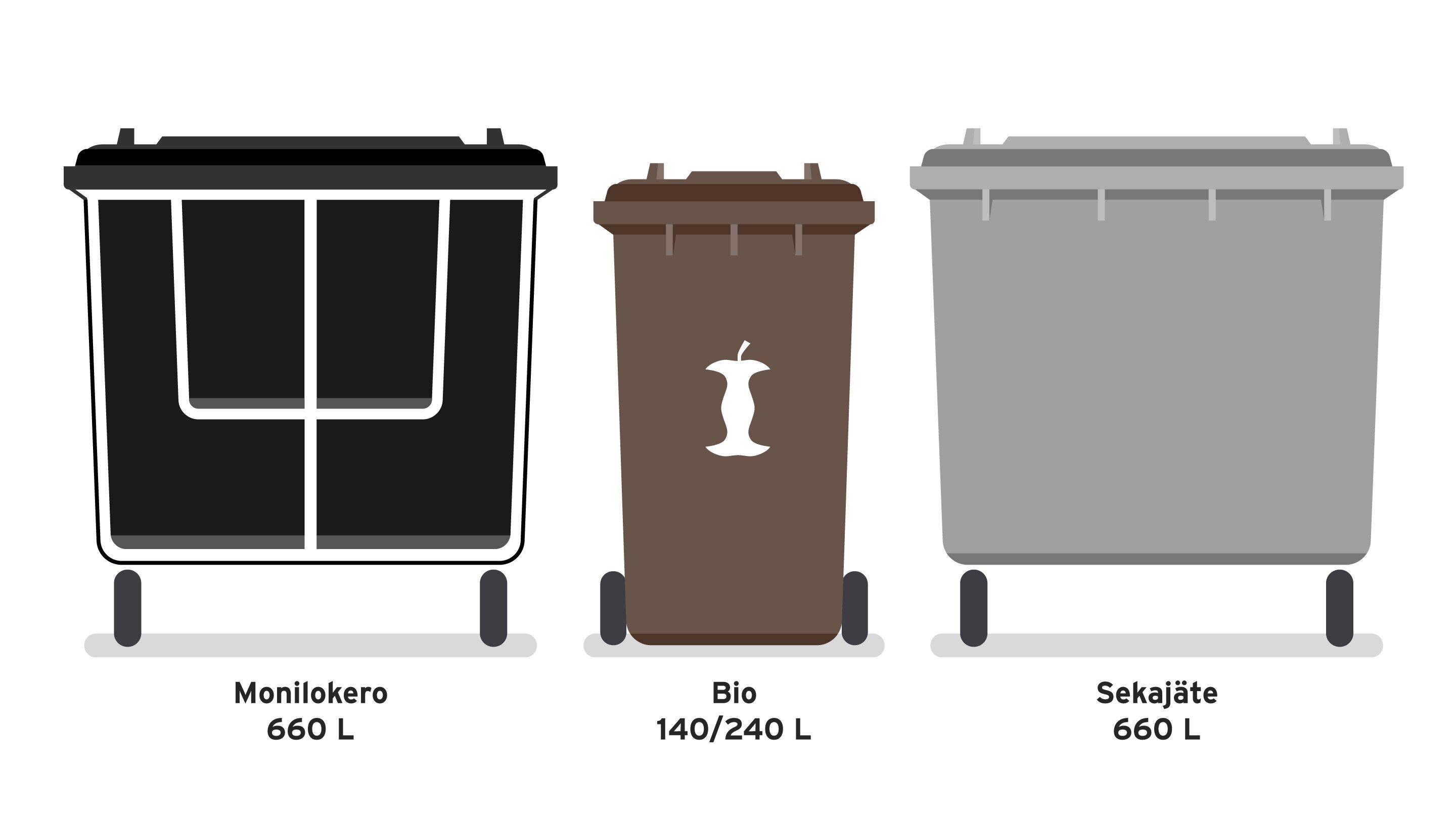 The size of a mixed waste container is 140–660 litres.
A multi-compartment container for packaging has a capacity of 660 litres and has its own compartments for small metal items, container glass, plastic and carton
The size of a biowaste container is either 140 or 240 litres.
Please take a possible paper collection container into account.
We empty multi-compartment waste containers and biowaste containers once a week or every two weeks, depending on the amount of waste accumulated in the housing company. If a housing company wishes to have containers for all types of waste, it is possible to do so. Properties with more than five residences can choose to order a 660 litre plastic packaging waste container. Smaller containers fill up too quickly and therefore pose a challenge for collection.
Properties with at least 10 apartments
Large housing companies with at least 10 residences already collect mixed waste, biowaste and carton, as well as glass and metal packaging in their own containers.

Monitor the amount of waste accumulated
The housing company should monitor the amount of waste that is accumulated. Waste sorting and recycling reduces mixed waste. If the emptying frequency or the number or size of the containers is unsuitable, they can be changed once the residents are actively sorting their waste.
You can make changes to the waste management service
Please remember to pay attention to the filling level of the new waste containers. If necessary, you can make changes to your waste management service if you notice that the size of the new waste containers or the collection frequency are not suitable.
Make the changes and check the next collection day from our electronic service.
Thank you for sorting your waste!
Waste Management e-service